SAVVY SCIENCE recently completed a technology consulting project on the development and commercialization of organic solar panels. In this Blog post, we would like to talk about this innovative new technology and describe the emerging industry.
Organic Solar Panels, also commonly referred to as Organic Photovoltaic (OPV) panels, are a next-generation solar technology. While conventional solar panels use inorganic and often potentially hazardous materials such as amorphous or crystalline silicon, cadmium telluride (CdTe), copper indium gallium selenide (CIGS) or Gallium Arsenide (GaAs) to absorb and convert light into electrical energy, organic solar panels use organic materials such as polymers and small molecules to generate electrical energy.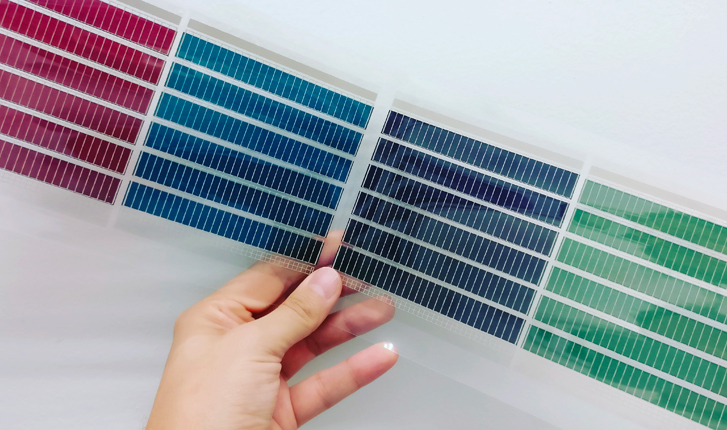 R2R printing processes also enable the use of flexible and transparent substrate materials as the platform to build the organic solar panels, so they may be thin, lightweight, flexible and transparent. Furthermore, the colour of organic solar panels may be tuned from red to purple to blue to green to grey, and more, simply by selecting combinations of organic materials that selectively absorb, transmit and reflect light in the desired proportions. This is shown in the cover photograph.
The unique properties of flexibility, transparency and colourfulness open up new applications and design possibilities for organic solar panels. In urban environments, organic solar panels may be applied to glass facades or skylights, where they provide shading from intense sunlight, allowing only a small proportion of light to pass through for illumination, while absorbing the remainder of the light to generate electrical energy. Organic solar panels can also be used to power urban furniture and smart cities, providing localized stand-alone power sources for USB charging, WiFi, lighting and more, all with an attractive form factor that adds to the visual aesthetic of the urban environment. One particularly impressive example of this application is the OPTreeTM by SUNEW.   
Several companies are now developing and commercializing organic solar panels. These companies include Armor (France,) Eight19 (UK), Epishine (Sweden), Heliatek, (Germany) Kolon (South Korea), OPVIUS (Germany) and SUNEW (Brazil). Please take a look at the websites and social media of these companies to see many examples of this innovative technology in action. It is worth noting that Heliatek manufacture their panels using vapour deposition techniques, whereas the other companies all use printing processes.
The foregoing demonstrates the tremendous potential of organic solar panels. However, several challenges need to be overcome. The cost of organic solar panels (measured in $/m2, $/W or $/kWh) is substantially higher than for conventional solar panels. Although there is inherent potential for ultra-low cost owing to the simple structures and manufacturing techniques of organic solar panels, this has yet to be demonstrated in practice, owing to a lack of economy of scale. This cost barrier has so far limited adoption in the field, with installations yet to exceed 1,000m2 in area or 30kW in power generation. Furthermore, safety and performance standards have yet to be passed (or even established) for this next generation technology, with substantial barriers to be overcome before organic solar panels can achieve internationally accepted certification. This is a flavour of the work still to be done, but the technology continues to advance, and the path ahead looks bright (and colourful) for organic solar cell technology.